08 Jul

THE BEAUTIFUL TALE OF THE COMPTOIR DES MARRONNIERS

By Claire Le Meur, CEO of Blue Bees.

The Bees went to interview Marjorie Koutnouyan, who opened the doors of her restaurant located in the heart of Lyon, rue des marronniers, a stone's throw from the Place Bellecour: Le Comptoir des Marronniers. Here is her amazing entrepreneurial story…

Claire Le Meur: How did the Comptoir adventure begin?

Marjorie Koutnouyan: It all started with my mother. She had the Espace Carnot brasserie and, to her great misfortune, I did not want to take over the business… It was not something that suited me. It was the drama of her life for a long time!

CLM: How long ago was that?

MK: It was 2009. She sold the Espace Carnot which she had bought in 1998.

CLM: In 2009, you weren't very old to take over a business like that? The Espace Carnot is a substantial establishment.

MK: Actually, I was 24 years old. My father was a bit of a "loulou" who told my mother "don't worry, I'll buy a hotel, I'll take care of everything and that's what I'll leave to the children". After two years, he had accumulated a lot of debts. At the time, I was working with my mother at the Espace Carnot. The accountant alerted her to the financial problems the hotel was having, telling her that if she put her daughter in charge of the hotel, she would be able to correct the situation. So, at the age of 24, I took over the management of this hotel that was in distress with 150,000 € in debts and I put everything back together.

CLM: What training did you have at the time?

MK: A real estate degree. Then I worked with my mother in the restaurant business. My mother was very strict – like all parents who work in the restaurant business, nothing is given, you have to earn it. But that never stopped me from living well!

CLM: What was the capacity of the hotel?

MK: It was a hotel that had 22 rooms. The Soleil et Jardin hotel in Solaize. We organized a lot of seminars and worked a lot with the chemistry corridor. Except that I didn't like it: I had fired the night watchman so I was doing the nights. I was also doing breakfast, lunch service, dinner service, and I was in charge of the overall management of the hotel.

CLM: It was non-stop!

MK: Yes, there were people who said to me "but when do you sleep? Sometimes, I was doing weddings, I was serving until 5:00 am and at 7:00 am, I was attacking for the breakfast. On the other hand, I told my mother "I took the hotel out of the red, that's good. But I am 24 years old, I can't stay locked up there 24 hours a day". So we sold. And my mother told me "you saved the hotel, I will help you to buy a restaurant that suits you". So she sold her brasserie because I didn't want to take it over – she resented me for 4 or 5 years (laughs).

CLM: And why didn't you want to take over the brasserie?

MK: Brasserie clientele is not a clientele that attracts me. It's a bit of a crazy business, money for money. In terms of food, it's still brasserie type. What I like here at Comptoir des Marronniers is that it's a place where you eat well, without it being stuffy. We are in the same type of category as the Bocuse brasseries but it remains friendly. That's what I wanted to do. So I looked for a restaurant to buy. I visited several. My mother was a young retiree and she didn't like being retired at all. I couldn't find what I wanted. My mother said, "How about if I give you a little more and work with you at lunchtime, is that okay? I said OK. I was used to working with my mom. So she helped me so I could buy a little bit bigger facility, coming to work with me.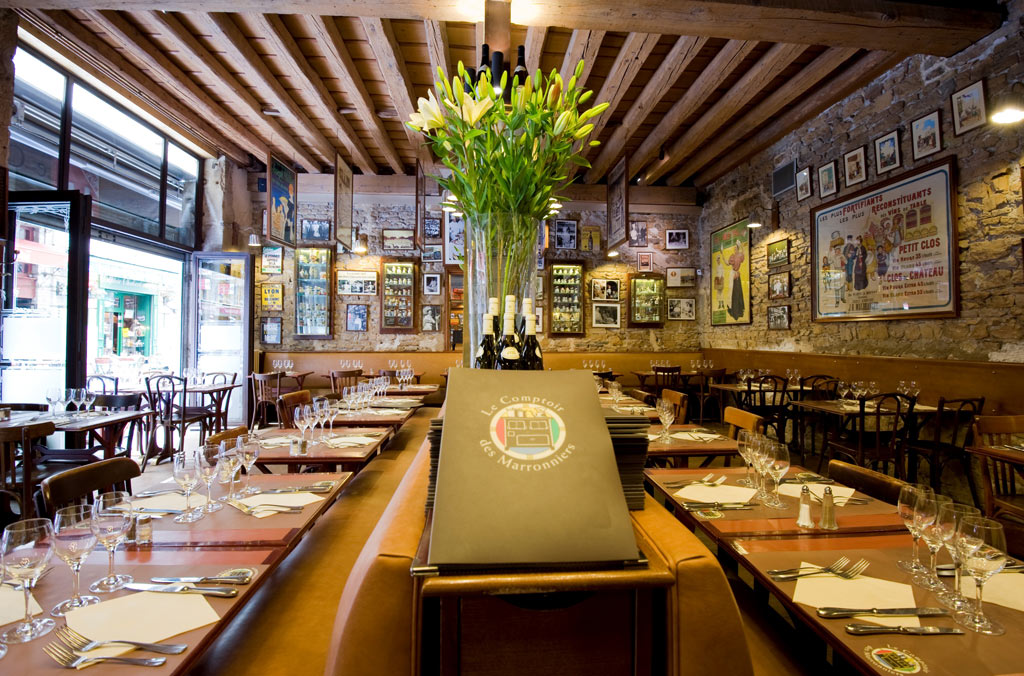 CLM: That was a great offer!
MK: Yes, except that by looking and not finding and waiting too long, I ended up seeing everything in black. I didn't like anything I saw, I was convinced that it wouldn't work. I thought that finally, since I had only worked for myself, learning on the job, it might be a good idea for me to go and work somewhere else, for someone else. To see other ways of working, to discover things to learn. So I worked at the "Enfants Terribles", rue Mercière. Then I went to work at the "Bon Bourgeois", rue des Marronniers, which was run by a friend of my father-in-law, who was director of France-Boissons at the time. For a Lyonnaise, it was shameful: I lived in Place Bellecour and I didn't know the rue des Marronniers (laughs). The restaurant owner, Franck Baldassini, member of the Toques Blanches Lyonnaises, was an extraordinary person who taught me a lot. He also had the Comptoir des Marronniers, which he had bought from Jean-Paul Lacombe in 2009. Franck had a strong personality. He started by saying to me, "I don't normally take women, but you seem to be different, so I'm going to try anyway ''.
CLM: So you joined his team?
MK: Yes, it was going very well. One day, he asked me to go and help out at the Comptoir des Marronniers, located almost across the street, because they were missing a waiter. Without lying, I pushed the door open and was amazed. I loved the atmosphere, I felt like I was home! He had just received a resignation… I asked to speak to him and explained that I would like to join the Comptoir team. He called me a traitor because I wanted to go work across the street (laughs). I told him that since he owned both restaurants, it didn't make much difference… Except that he didn't like Le Comptoir. I don't know why. He was having trouble with the current manager who was going to be away for a month and a half and offered me to take his job. I said, "Okay, I'll take his job, but I'll take his pay too! We shaked hands. At the end of the month and a half, I told Franck that since he had two restaurants on the street, he could sell me one… He had bought the restaurant just two years before and therefore refused. I insisted. The manager came back and things were not going well. Shortly afterwards, Franck told me "make me an offer!" But we couldn't agree on the price. And my relationship with the director was becoming strained because he had learnt that I had made a purchase proposal. So I was considering leaving, finishing the season and leaving in September.
CLM: So you did resign?
MK: Yes! and I went to work at the "Bistrot des Maquignons", Grande rue de la Guillotière. It was an extraordinary restaurant, which made a lot of money. I was very surprised to find such an establishment in that spot. Then, from time to time, I came back to see Franck… One day he asked me if I still wanted to buy. I told him that my proposal was still on the table. We high-fived and he offered to sign within the week.
CLM: And you were able to sign within a week?
MK: Yes, I put a little pressure on him (laughs). We signed at the end of September 2011 for a December 1st opening, so that I could do the Fête des Lumières, December 8 – that's a major time of year for a restaurant. That left October and November to launch the restaurant. I activated my entire network and we did it! It's been 11 years. I have succeeded in accomplishing my dream!
CLM: What is your customer profile here?
MK: I have a large business clientele. Before Covid, I was on a 70% expense ratio. Now I'm down to 50/60%. But it's still very important in proportion.
CLM: And when you arrived, in terms of the menu, did you change the formula or keep what was there?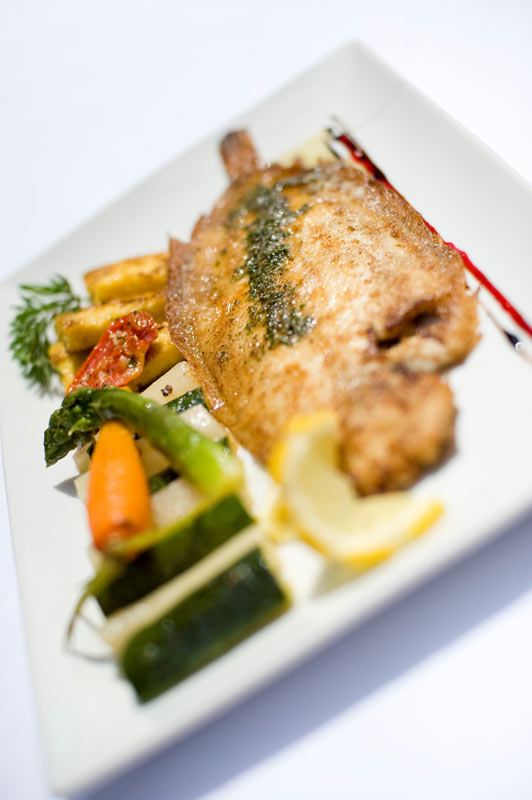 MK: I kept what was there. I reworked the pork belly, which is our specialty. We remain on the modern Lyon cuisine. We are not a "bouchon". We don't have the little lace curtains (laughs). It's good to keep the traditions but we still have other dishes – especially for tourists. You should know that the rue des Marronniers is one of the oldest streets in Lyon. It was laid out at the beginning of the 18th century, when the buildings to the east of Place Bellecour were built.
CLM: And how did you go about finding your team once you bought the restaurant?
MK: For the first 4 years, I was there 7 days a week, lunch and dinner. I only took one week off a year – I just closed the week of my birthday, August 8! I built loyalty – I'm pretty easy to talk to. I tried to get in front of problems, I didn't wait. My team saw me working with them and just like them. Today, in the dining room, there is me with two waiters during the week and I have one more waiter on the weekend. If it's busy, I run like them! Since the beginning, I have had three teams. A team lasts about three years.
CLM: Why does a team only last three years?
MK: On our street, there is never a break… We are open every day. Sunday night, for example, we did 130 covers. Monday, same thing. You never know what will happen. So it's tiring. Those who stay with me are really passionate! My current team has been here for 4 years.
CLM: In total, between the kitchen and the service, how many people are there?
MK: 14 people. That's quite a team to manage. And I just bought a restaurant across the street, "La Cantine des Lyonnais". My chef and my second in command have switched to this new restaurant and we are in the process of rebuilding a solid team. It's a sporty rhythm… We have to keep up! We also have an obligation of quality. In Lyon, there are many restaurants where the food is good. We can't afford to give a bad welcome or serve badly. We work with quality products. For example, our vegetables come from my brother, who does permaculture. Sometimes we go to pick up the vegetables ourselves at his place, Ferme de la Brochetière in Dardilly, with my cooks. They cook it all the same evening! In Avignon, for example, where I lived for a while, the restaurant offer was very poor. It's easier to stand out. Plus the fact that we welcome people until 10:30 pm. This is quite rare in Lyon. And people are also well received, no matter what time it is! I have complete confidence in my team for this. For instance, my other floor manager, Rafik, had his own restaurant. We worked together at Le Bon Bourgeois. And he, like me, fell in love with the Comptoir des Marronniers, where he did his apprenticeship.
CLM: And how do you manage to run two establishments at the same time, even though they're located almost opposite each other?
MK: I have good support… I have a great team. As a matter of fact, the Comptoir des Marronniers was one of the most popular restaurants before the war. To eat there, you had to wait in line all the way down the street!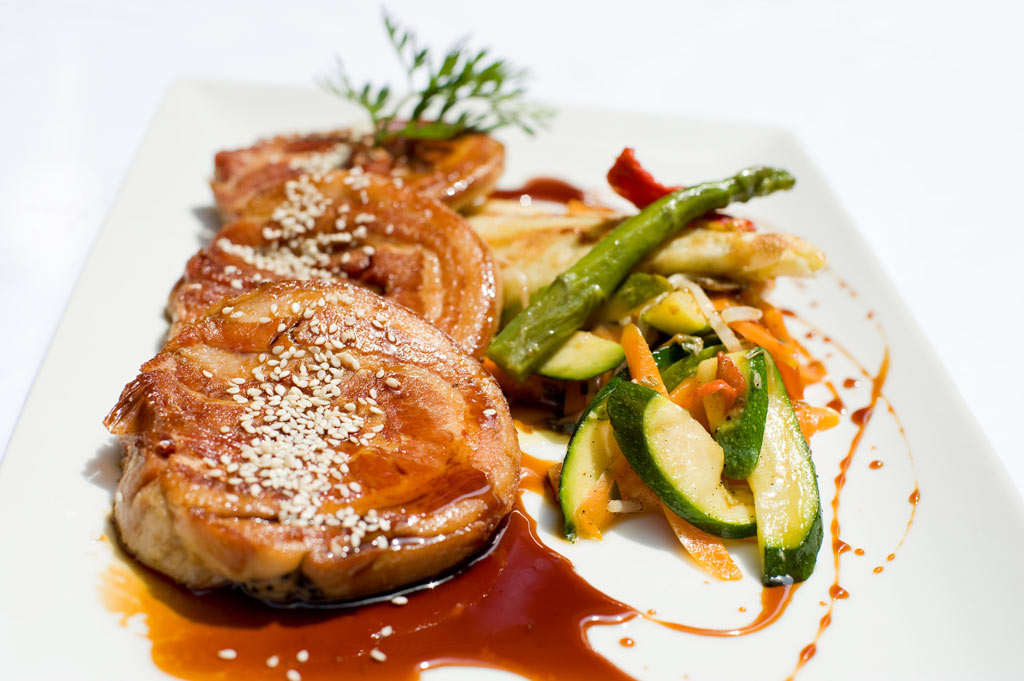 CLM: And what's next in this beautiful adventure?
MK: What's next… I finally reached an agreement with my landlord to buy the walls! It's something I've been waiting for for a while… My chef is becoming associate chef, at the Comptoir des Marronniers, and across the street, at the Cantine des Lyonnais, the chef is becoming associate chef. After that, I think I'll continue for another four or five years, but I don't think I'll do more. I don't have the same energy as when I was 30 (laughs). I'd like to get back into real estate and sell cafes, hotels and restaurants. Staying in the business, providing an advisory role, but without a totally offbeat life. I'm never in bed before 2:30 a.m., almost seven days a week. Because there is also the whole management and billing part, after the service… Even if I like the work – and the work well done! I've enjoyed every job I've ever had. But what is difficult, for example, now, is not finding anyone to work… I am very worried about the restaurant business. I'm not worried about the service part because I can manage the service with students. Regarding the kitchen, it's a different story… You can't run a restaurant without a cook, without a chef! If there is no transmission of knowledge, the profession will disappear… It's a shame because it's a fabulous profession.
CLM: And one in which you can be proud of a great success!
MK: Yes, it's a great win and I fought for it.
The Bees thank Marjorie for this fabulous story and advise all food lovers to stop by the Comptoir des Marronniers… The Bees, who accompany this outstanding entrepreneur in the development of her projects, always find a good excuse to sit down at the Comptoir and enjoy the specialties of the place!