23 Jun

TWO YOUNG TALENTS OPEN THEIR OWN BUSINESS…

By Claire Le Meur, CEO of Blue Bees

The Musée d'Art Contemporain of Lyon's boutique welcomes the Bees today, to meet two young talents, Louise Thonnerieux and Selim Tammam, graduates of L'Ouvre-Boîte…

L'Ouvre-Boîte is a scheme for integration through entrepreneurship created by the Apprentis d'Auteuil. It is aimed at 18-30 year-olds with little or no formal education, who have a business project in catering, retail and finishing sectors.

Its mission? To create the conditions that will enable young people to overcome the obstacles that stand in the way of their creative project, within the framework of a 24-month program which includes project experimentation in real-life conditions, educational content, support from volunteer professionals and individualized follow-up to ensure the best chances of success…

As part of this program, the Bees support young people in drawing up their business plan, monitor key indicators over a two-year period, and help them set up their business. Only volunteer Bees take part in this sponsorship program: account managers, assistant accountants and managers.

Today, Louise runs the boutique at the Musée d'Art Contemporain. She's 19 years old…

Claire Le Meur: How did you end up in this iconic venue to present your creations?

Louise Thonnerieux: The Musée d'Art Contemporain opened the doors of its boutique to L'Ouvre-Boîte because the project appealed to them. Previously, we were located on the slopes of Croix Rousse, but the boutique was at the end of its lease…

CLM: So the idea is to present L'Ouvre-Boîte's fashion-related projects in the context of the Musée d'Art Contemporain boutique.

LT: Yes, that's right. There are also projects which have more to do with culture: one of the girls here organizes fun tours of Lyon, for instance. The public is a bit surprised at first, because it doesn't look like a traditional museum store, but in the end they're happy. It allows us to be in a very beautiful place and to get a lot of foot traffic. Furthermore, we were extraordinarily lucky to open for the Nuit des Musées (night of museums). We had over 3,000 visitors, which was incredible! The staff are very nice to us, too.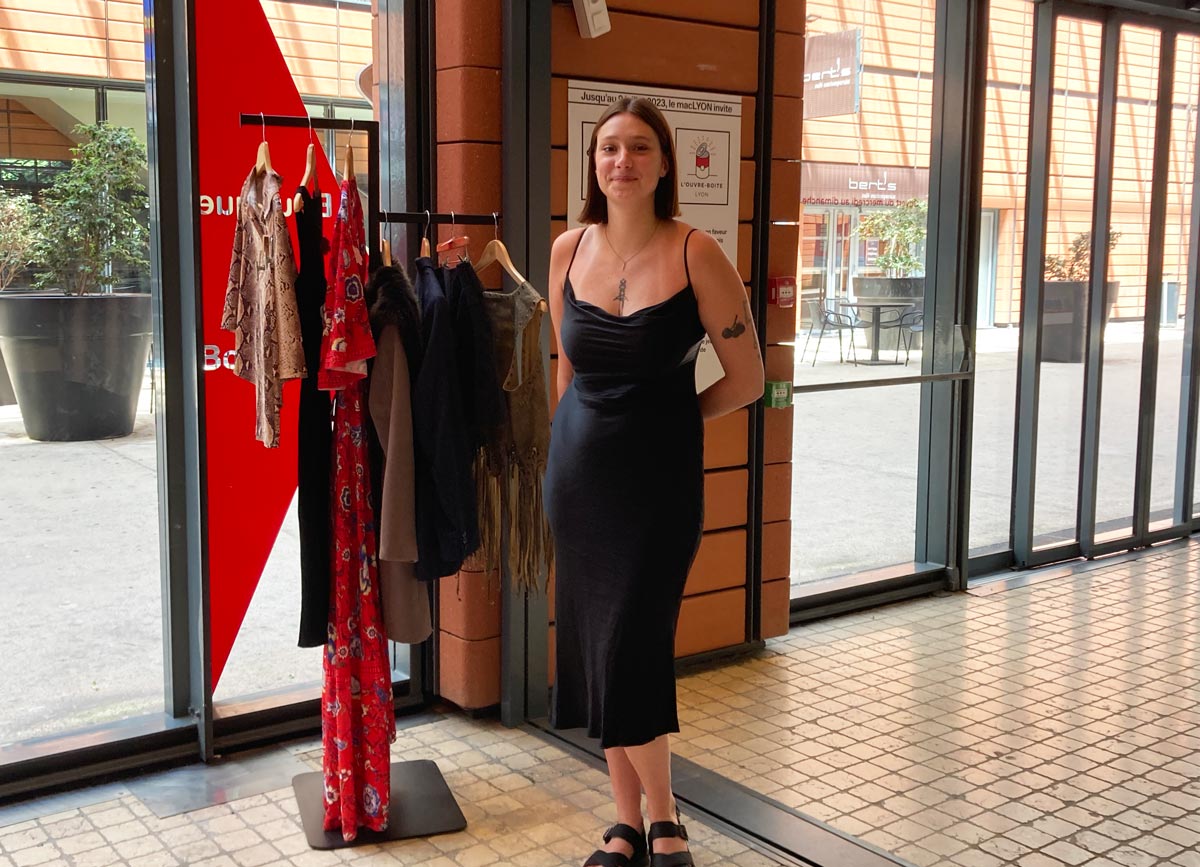 CLM: So, did you sell any pieces?
LT: Yes!
CLM: Are you happy?
LT: Yes, very happy!
CLM: How did you get to L'Ouvre-Boîte?
LT: I'm not part of the "classic" Ouvre-Boîte career path. I'm one of the youngest in my class – and in the classes in general. I got a general baccalaureate and then started a CAP in fashion, to do dressmaking. But I wasn't ready to go back to school – I'd been a bit of a school failure since high school. So I preferred to go out to work, which worked for a while. Then I got in touch with the local mission, which helped me a lot in my career path to find out what I really wanted to do. Ever since I was a little girl, I've dreamt of designing clothes…
CLM: Had you ever tried your hand at making clothes?
LT: Yes, yes! I've been sewing since I was a little girl… It's difficult when you're starting out, but I loved it and I still do. As I grew up, I developed political convictions and, as a result, I got closer to "second hand" and not just sewing. The local mission recommended L'Ouvre Boîte to me, and I took the advice!
CLM: What's your goal now?
LT: I want to open a boutique and an online site, set up my own brand and manage it all as a self-employed entrepreneur.
CLM: How far along are you in this ambitious project?
LT: I'm experimenting – my articles are on display on the rack over there! I'm registered and about to file my first tax returns. I'm off and running! I still have to open my website… I've finished the months of intensive training.
CLM: How has Fifty Bees helped you along the way?
LT: Fifty Bees helped me put together my financing plan. I didn't know anything about it… Maths is my nightmare! But I loved what I learnt, because it allowed me to see how feasible or not my project was.
CLM: Were there things you had imagined that, in the end, weren't feasible?
LT: Yes, for example, I had envisaged running my business from a mobile thrift shop trailer. In fact, there were a lot of costs I hadn't thought of, such as gas, repairs and insurance. This would have been the biggest cost item for my thrift shop. This support helped me to put my feet back on the ground, while at the same time realizing, on the other hand, thanks to the break-even point for example, that other things were possible.
CLM: What, for example?
LT: Stock. I used to think that stock was very expensive, but in the end, it's not what's going to cost me the most money. I don't want to sell my products at a high price. By sticking to my values and my prices, I was still within my budget and I kept my margins.
CLM: What exactly are your values?
LT: In Lyon, there are a lot of thrift stores with great selections – on the slopes of Croix Rousse, for example – but I find them very expensive. We don't all have the time to go to Emmaüs, where we won't necessarily find the clothes we like. I'd like to see a simpler selection of clothes that are easy to find, without having to turn to polluting "fast fashion". I think it's important to dress and consume better, but organic clothing products are twice as expensive as others. I'd like to be able to offer affordable clothes that are accessible to everyone.
CLM: You're talking about a thrift shop. So you wouldn't be making your own clothes?
LT: No, not at the moment. But I do do some alterations (buttons, undone hems, seam repairs, etc.). Eventually, I'd like to have a small "capsule" of clothes, but that takes a lot of time to put together. Still, it allows me to project myself and imagine how my project could evolve.
CLM: What's the name of your thrift shop anyway?
LT: Malou Friperie. My name is Louise… It's for Ma Loulou because that's what my dad used to call me all the time, and it stuck. It's become my identity, even on the net!
Selim has joined us – it's now his turn to run the Museum store, and he in turn presents his career at l'Ouvre-Boîte:
Selim Tammam: I'm 26 years old and I've just set up my company with a partner, Medhy Aboudou, who is in Paris and therefore not here today.
CLM: How did you come to work at L'Ouvre-Boîte?
ST: I arrived thanks to an e-mail from Pôle Emploi (national employment center)! I don't usually look at advertising mails, but that day, by exception, I clicked on it and saw the opportunity they were offering young entrepreneurs.
CLM: What was your background before l'Ouvre-Boîte?
ST: I did a BTS in communication, then I accumulated a lot of experience in different jobs. I had a hard time finding my place as a salaried employee… I'd known for a long time that I was going to be an entrepreneur, but I didn't really know what I wanted to do. I had several projects and concepts in mind. A little anecdote: while on vacation with friends, I met my partner and we hit it off very quickly. He had the same desire and the same issues as me, so we started the project together!
CLM: And what is this project, then?
ST: We've developed a clothing brand. We sell textiles, but beyond selling textiles, we share a vision. We want to create a real movement, pass on a message and values, and unite people through our brand. Textiles are just a means of expression.
CLM: What's the message?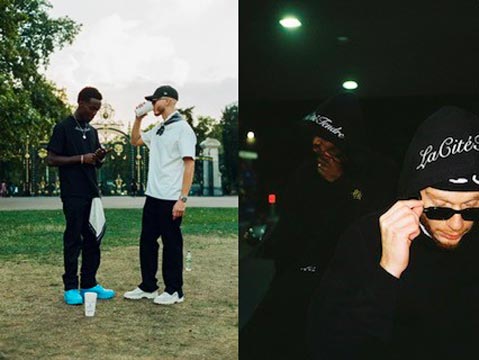 ST: Our brand is called "La Cité Tendre" (The tender city). It expresses a duality: basically, a city is a place where people simply live together. There's no pejorative connotation. But the cité also represents neighborhoods and popular movements. We wanted to shed some light on these places and show that it's not all bad. There's also love and mutual aid, even in the most difficult places.
CLM: You sell textiles, but you don't manufacture them?
ST: For the time being, we're having things made. Eventually, we'd like to design pieces of clothing ourselves. For the moment, we have models designed and printed on virgin textile. This is the classic technique for young companies starting out in the apparel business. But we're not stopping there. For instance, we designed a scarf that we had made in Lyon. The jersey you see here is a piece we made with a young textile company in the south of France, in Montpellier, specializing in jerseys.
CLM: Where are your products currently distributed?
ST: We don't yet have a website – it's under construction and will be up very soon… We're lucky enough to be present here, at the Musée d'Art Contemporain in Lyon, and that's a great opportunity. It also fits in well with our image, since we have a fairly artistic universe. We had other opportunities: we were present at Kulture boutique, for our first collection, which is a store in Lyon specializing in sneakers and street wear.
CLM: What did the Fifty Bees team contribute to your development, in terms of advice?
ST: There comes a time when you have to talk about figures. You can dream, but it's important to face reality. Figures help us to come back down to earth and understand what our objectives are, so that we can achieve them, understand what margin we need to make on our products to be able to make a living from them, and at what point we can make a living from them.
CLM: At the moment, are you making a living from it or not yet?
ST: No, not yet… We only set up the company six months ago. We're generating some sales, but it's not enough for the moment. And we prefer to put what we earn back into the business for the time being. We're focused on development and quality improvement. Quality is very important to us. Our customers are very happy with what they have in their hands because we try to do the best we can with what we have. People feel this when they consume. That's our real battle.
It's not the best strategy for making big margins and generating lots of money, but we prefer to build a community rather than make money right away. We tell ourselves that the money will come later because the project is properly built.
CLM: Is there anything about the support offered by Fifty Bees that you hadn't thought of, or which surprised you – either positively or negatively?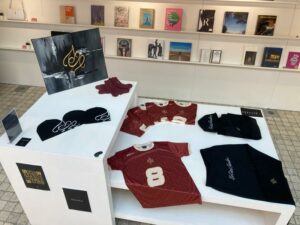 ST: Given that I've been immersed in entrepreneurship since I was very young, thanks in particular to my friends and my parents, I already had a good notion of the reality of business. Now, of course, there are always things to learn, and it's a good thing we had l'Ouvre-Boîte because it enabled us to get some advice and take our time, too. That's really important. It allowed us to be patient. We wanted to go very fast!
CLM: It's hard to be patient when you're starting a project…
ST: Exactly! And you can't rush into business. If you start a business, it's to be able to make a living from it over the long term, not just to make a quick buck. You have to think about every eventuality, and focus your proposal and positioning to do things right. I'd like to thank L'Ouvre-Boîte for that.
CLM: Where can we find your brand?
ST: For now, the last pieces available are at the Musée d'Art Contemporain. After that, you can always find us on Instagram @lacitetendre and then on the website, which will be online later this summer.
CLM: No plans for a permanent boutique at the moment?
ST: No, that's not our goal at the moment.
CLM: What do you do when you're not at the museum boutique?
ST: I'm working on the development of my company. I'm also back into the restaurant business as a waiter. It's a business which offers staggered working hours, so I can continue to develop my project. It's not easy because the days are long, but I'm happy…
The Bees are proud to support these young talents, who you can find on @malou_friperie and @lacitetendre while waiting for their websites. We wish them every success and will be sure to keep you posted 😉.