16 Aug

LES JARDINS D'ALEXANDRE OR THE ART OF IMAGINING LANDSCAPES…

By Claire Le Meur, CEO of Blue Bees.

Today, the Bees went to Paris to discover the wonderful world of one of their clients, a landscaper, les Jardins d'Alexandre…

Alexandre Quirder and Benjamin Terrier opened the doors of their sanctuary dedicated to gardens and landscapes and told us about their exciting entrepreneurial adventure:

AQ: I started SMJ in 2006, which then became Les Jardins d'Alexandre in April 2019. Knowing that originally, my specialty was pruning. Benjamin came to join me 3 years ago, after long discussions at the end of 2018 (laughs) and he is now my partner. We work mainly in Paris and suburbs.

CLM: How was this adventure born? Did you already have your own pruning business before?

AQ: No, I was an employee in a pruning company and I decided to embark on the entrepreneurial adventure in 2016. Historically, I have known Benjamin since school! We passed our vocational baccalaureat together. We were friends who had a good feeling. We had remained close, maintaining a friendly bond over the years, even if each of us had gone our own way. Benjamin in the landscape, for companies that really did gardening, I in pruning. We started hanging out a little more starting in 2015. Benjamin wasn't very fulfilled in the company he was working for. We thought about working together, to the point of setting it up and partnering!

CLM: And today, Les Jardins d'Alexandre have how many employees?

BT: There are 11 of us now. We have really developed gardens remodeling and quality maintenance contracts. We cater to a wide range of clients who have a terrace, a garden, or a piece of land to imagine. We offer them a complete project, from A to Z, which can also include wood construction, masonry, automatic watering, lighting – a truly comprehensive service.

CLM: You actually offer landscape design, beyond just garden design.

AQ: That's right! Thanks to our design office, we are able to propose a project, presented in the form of a very complete file which presents a plant palette that we will put in place including furniture, potteries, etc. Kind of like a high-end kitchen design, really.

CLM: You don't work exclusively with individuals but also with professionals, do you?

AQ: Yes, we do. Since 2006, I had developed a clientele. I was working a lot with people in the public works industry, developers, etc. So when I explained that I could develop other services, I already had a network of clients. In fact, Benjamin and I combined our networks to offer a complete service. Our two client bases were very different.

CLM: What is the specificity of your expertise today?

BT: We have always looked for novelty in our services (new materials, exceptional plants, etc…). I started out with Didier Danet, where I did my apprenticeship. There, I was in charge of Pierre Bergé for example – a garden lover. I met Pierre Bergé and then Yves Saint Laurent at the Orangerie. As he loved working with me, he followed me when I returned to Didier Danet. Pierre Bergé used to tell me, "Where you go, I go" (laughs). Then, in another company, I also met Yves Saint Laurent. This allowed me to learn how to manage specific high-end projects or clients, to fully understand the clients' needs and wishes. I am a garden enthusiast.

AQ: Benjamin has a really huge knowledge of plants!

CLM: You were talking about innovation earlier. What is innovation in landscape design?

AQ: It can be materials, furniture, plants. It's a bit like fashion, there are trends in the garden. Currently, we visit many gardens where we find plants that were fashionable in the 90s, which are no longer trendy. We also know that with global warming, we offer Mediterranean plants in Paris that we could not install before because they were not adapted to the climate.

BT: We also try, when we create or redevelop a garden, to reconcile the garden with the people who live there and with the house itself. The garden must be a coherent continuation of the house. A garden does not work "on its own".

AQ: For instance, if you come into a family where you know there are young children, you have to adapt to their needs and demands.

CLM: What would be your dream project?

AQ: Personally, my dream would be for someone to say "I live in Paris, I have a garden or a terrace and I would like it to be as wonderful as possible". To treat yourself to a magnificent garden like you would want to treat yourself to a Porsche or a Ferrari, in fact…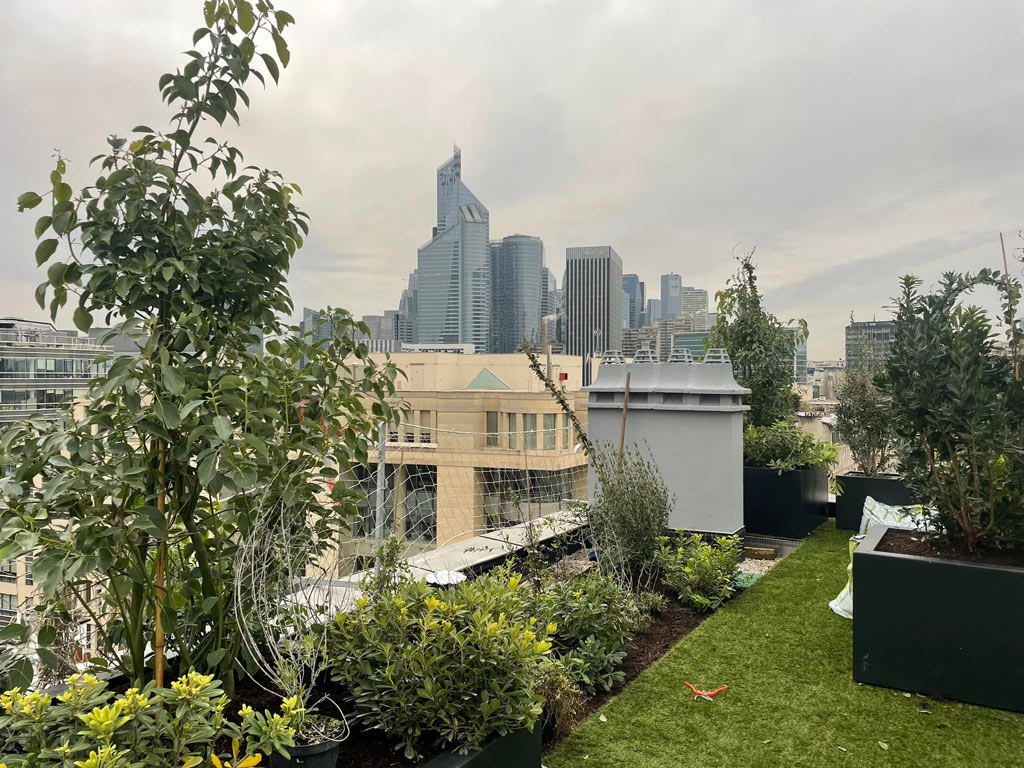 BT: You walk through the door and you are amazed… You can't imagine that you are in Paris.
CLM: What is the achievement you are most proud of?
AQ: It's a tricky question! We have completed several beautiful projects. In Issy-les-Moulineaux, for example. Near Disneyland Paris (Magny Le Hongre), too. There, we started from scratch – it was a bare garden, and the result was really successful. It was very beautiful.
CLM: What makes you the happiest about doing this project near Disney? The complexity of the exercise? The plants you installed? The overall design?
AQ: The whole thing, really. On this project, the client tells us that every time he has friends over, they are amazed by the work we did. We used very beautiful materials, very beautiful potteries. We built a gigantic bench out of exotic wood, inlaid in the wall. The client wanted a "California beach" style and we were able to meet his expectations.
BT: The plant palette is extraordinary. And the bench is quite impressive.
CLM: For the realization of this bench, did you call upon a service provider?
BT: No, everything was done in-house! The garden was designed by our design office and entirely realized by the team of Les jardins d'Alexandre. We submitted the entire project to the client, from the creation of the project, its realization and its follow-up by proposing an annual maintenance contract. We also thought about the plant palette, the pottery, the layout and the lighting.
CLM: And what is your worst memory, in terms of realization?
AQ: Nothing we haven't solved! But a problem on a job site… We had ordered a loader for a huge plant – an exceptional item. The loader that was delivered was too big and wouldn't fit in. We had to manage to install this huge plant by hand… We can also manage all the formalities inherent to the development: the installation of a crane to mount the plants on the terrace, the requests for authorization, etc.
CLM: Have the two years we've just lived through, in a particular health context, been favourable to your activity? When you're stuck in your garden, with no other way out, you want it to be beautiful, don't you?
AQ: I think our customers would have done the project with or without Covid. On the other hand, it is true that in Paris today, the smallest piece of terrace is developed and valued. It's never left untouched. To give a clear example, in Neuilly sur Seine, one of our clients owned the top floor of a building and negotiated with the co-ownership to obtain the usufruct of the roof. After a lot of consolidation work, we exploited this building roof and created a very nice terrace, with plant beds and a view to La Défense and the Eiffel Tower! A very nice project.
BT: This client had consulted several landscape designers before us, who were not able to carry out the project. We took up the challenge and did it.
CLM: What development do you envision for the coming years?
AQ: Our dream is to become a reference in Paris for gardens. We would like to have two real creative teams, with no more than 15 employees. We have a great team and we work in a friendly, family atmosphere, which we want to keep because it's very precious. We have a lot of fun!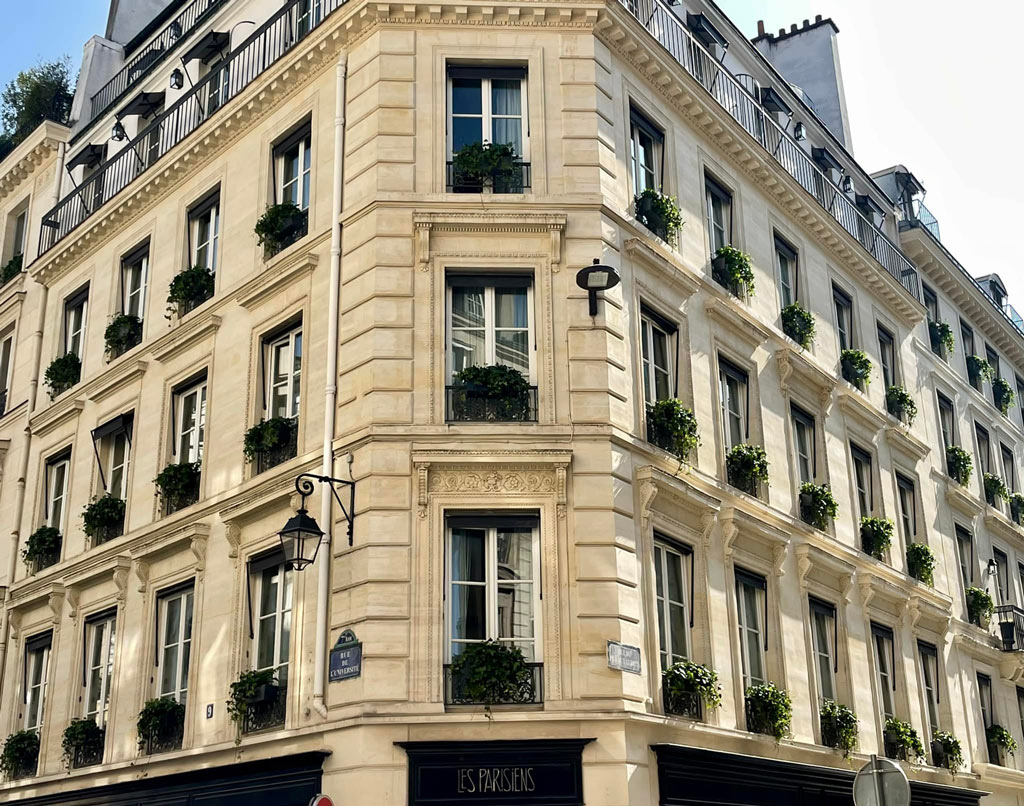 BT: We also carry out the upkeep and maintenance of our creations all year round. Indeed, when you invest money in a garden, it is a shame not to maintain it in optimal condition… Some of our customers do not have the green thumb or simply do not have the time to maintain their garden and/or terrace. So we take care of it for them.
CLM: What's the best compliment you could get?
AQ: We regularly receive thank you emails from our clients who are delighted… These are great compliments!
BT: It's a great team of passionate people.
CLM: And if we have a space to realize in France, elsewhere than in Paris, we still call you?
AQ: If it's a nice project, yes, of course! We are open. Just contact us…
BT: With pleasure. 😊
The Bees wish Les Jardins d'Alexandre, for the years to come, many beautiful landscaping projects…