30 Sep

Carlin or the art of anticipating trends…
By Claire Le Meur, CEO of Blue Bees.
The Bees went to Paris to meet Edith and Edouard Keller, head of Carlin Agency, to discover the backstage of a great entrepreneurial adventure, in the heart of the mysterious world of trends…
Claire Le Meur: Today, mother and son, you both hold the reins of the trend agency Carlin, in Paris. Can you tell us in a few words the history of the agency?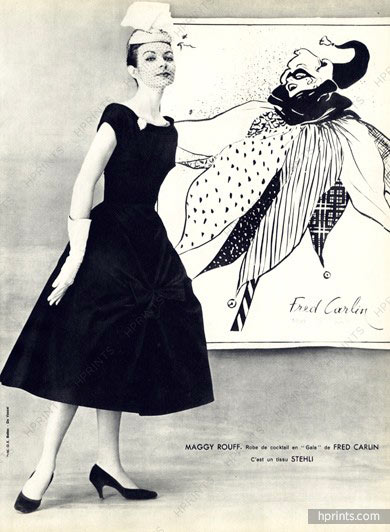 Edouard Keller: The agency was born in 1947 and the funny thing is that everything has changed since the creation of the agency… except the mission! The genesis of the agency is a gentleman named Frédéric Carlin, whose parents were weavers in Lyon, and who thought that between the moment when a fabric is made and the moment when it can be bought as a finished garment, two years easily go by. He found it strange that no one was interested in what was happening during those two years and which could explain the reason for buying this fabric rather than another. So he decided to create a tool he called the trend book, in which he gathered the fabrics he believed in for the next two years… We still have the trend books, our historical tool, which represent a third of our activity. Based on all the observations we make in these trend books, we have a consulting section which today works on three pillars: branding, i.e. everything related to marketing and branding in the broadest sense, design, where we draw collections, products and color palettes for our customers, and finally communication, with an internal communication agency. The idea is to rely on daily monitoring and anticipation. When a client comes to see us, we will of course adapt to their history and their DNA, but we will also have a foresight that will allow us to surf on currents, rising trends, already well established according to the client.
CLM: Do you have any favorite sectors of activity?
Edouard: There have been changes over time… In 1990, we were 90% oriented towards fashion. Today, fashion represents 60% of our activity. The remaining 40% is very varied, with cosmetics in the first place. We also work with the hotel industry, the automobile industry, travel, telephony, tech, etc. Having such a diversity of clients is probably the coolest part of our job. It allows for a richness of activities and cultures – two-thirds of our work is based on export. We have foreign clients who often work in their local markets. So we have a continuous international and cross-sector vision.
CLM: Edith, you were 27 years old when you bought the Carlin agency in 1991. How did you get there?
Edith Keller: Actually, I started out in a company called Promostyl which was a design office. The office became political, really big and I decided to try the entrepreneurial adventure. In 1985, I launched a mini communication agency. At the time, communication was almost a dirty word, especially in the world of style… In fact, I met with success extremely fast. In 1991, I worked for Mr. Menlik, CEO of Carlin. He tells me "Edith, I am 62 years old, don't you want me to buy you out?" At that time, I didn't really see the logic and I was very pregnant (laughs). I told him no! A year later, he invited me to lunch, told me he had another idea and said, "Well, actually, you're going to buy me out". I called my accountants and told them I needed money. They all gave me some money and said, "Okay, let's go for it! So I bought Carlin, first of all because I liked this business of foresight and design. Above all, they had an incredible international presence. They were already established in 25 countries. I was convinced that I could not make a living from this activity in France only, and I thought that it would be very interesting to create a network like that and to buy the structure…
It was very difficult because it was a fairly large company, and I did not necessarily have an entrepreneurial background. I quickly understood that we had to add marketing to the business – which was still a dirty word at the time, in creative professions. We developed creative tools. We did it by instinct. Then we built a real foresight method, based on collective intelligence, on the research of emerging phenomena, based on figures. Today, the strength of the office lies in its ability to predict, but above all to transform the whole thing into concepts.
CLM: A very naive question… How do you manage to find what is going to be emergent, what is going to exist?
Edith: It's quite a heavy work that takes months of intense thinking with the office team. In fact, there is a first step which is called the macro-trend, that is to say that we have 3 or 4 girls who spend their time looking for all the key figures, on all the major phenomena, be it demography, politics, etc. At the same time, we ask all our creative people to look for emergencies on all creative phenomena because we know that creative people are anticipators. They anticipate before the others. It's the sum of all this that allows us to create the trend, which will then naturally adapt to the different sectors of activity.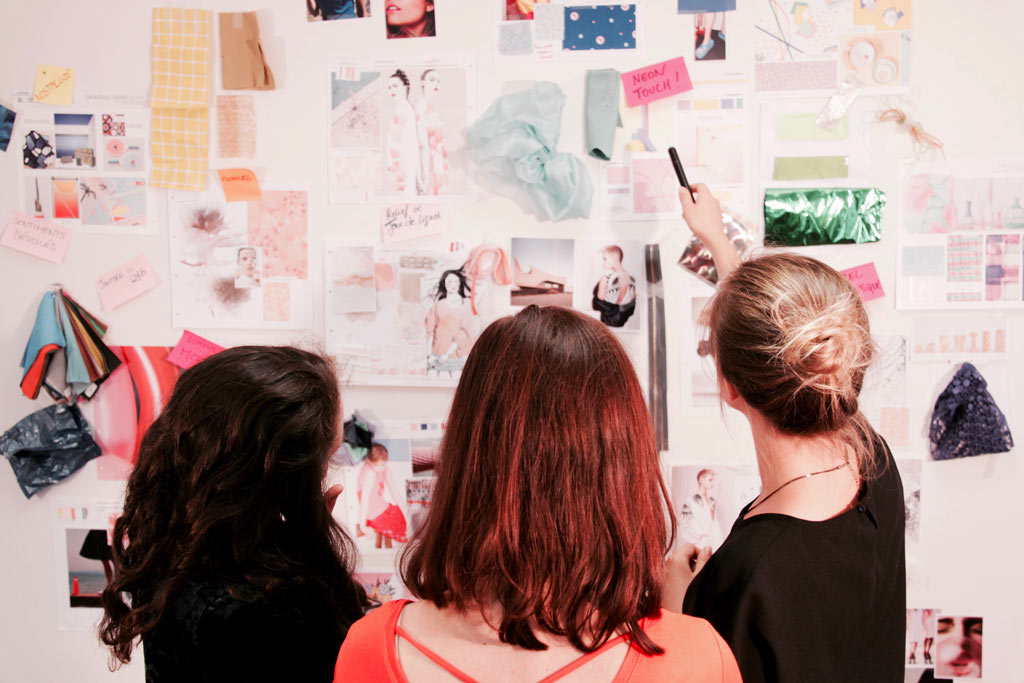 CLM: In the trend books you publish, do you ever make mistakes?
Edith: No. A major trend accelerates or slows down, but is never refuted. On the other hand, we can be totally wrong about fashion, about a product that comes out much faster than we had seen, or on the contrary that will come out later than we had imagined. On the pure product. On the other hand, when it comes to color and materials, it's impossible to be wrong.
CLM: Why is it impossible to be wrong about a color? The trend binders you publish are extremely rich and detailed on all these questions…
Edith: We are always two years ahead of the trend. On materials, colors. And there are cycles in colors. For example, we know that a color in a home will last five years. However, in fashion, it will last eighteen months. The time that it goes from the creator to the general public, there is a lag time. Nevertheless, there can be a surprising phenomenon. For example, today, people in the retail industry say that green is a leading color. Ten years ago, when I talked about green, I was totally denied! Then there is the problem of color internationally, which is another subject.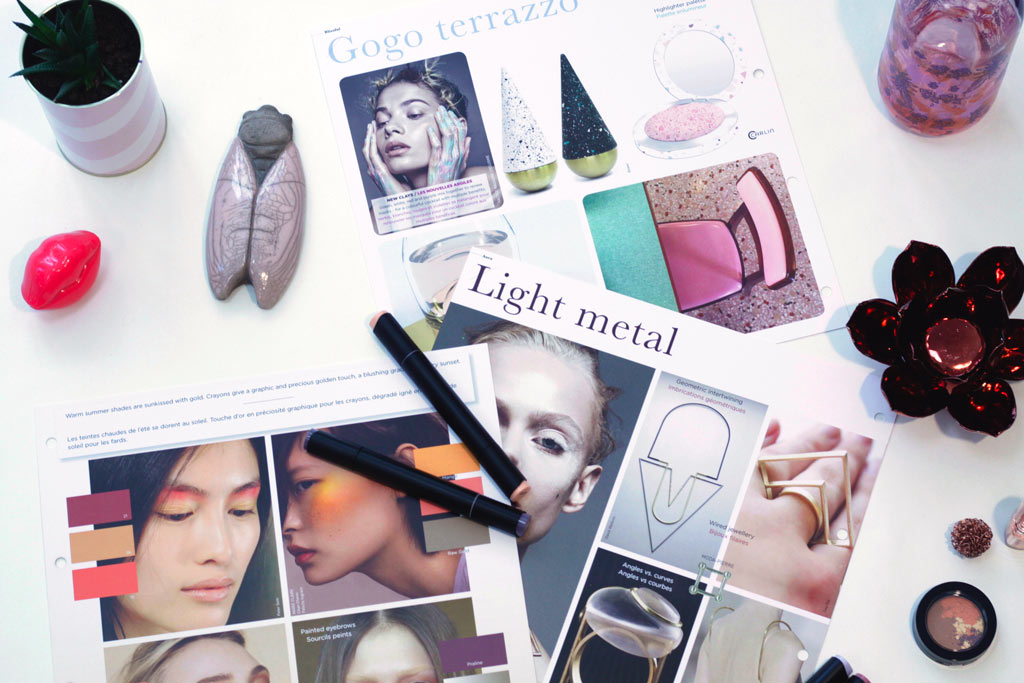 Edouard: The last booklet we published is the 2023 trends booklet. In its detailed version, it is extremely "talkative" and addresses all sectors of activity. It talks about marketing and economic data. Some of our shorter versions are much more emotional. But once we've produced our notebooks, all we have to do is wait for them to reach the market… It's quite amazing. Between the time we publish them and five years later, the trend arrives in the world in various ways and it takes more or less time but it always happens!
Edith: For example, ecology is an underlying topic that has been discussed for more than fifteen years now and Covid will necessarily give a boost to the trend. A major innovation can also change the trend.
Edouard: And that's where our added value lies. For instance, customers ask us whether they should use kraft or brown products like they did ten years ago to emphasize the ecological aspect. It is up to us to explain to them how to adapt the concept according to the country, the degree of maturity of the market, etc. In cosmetics, for example, this has little impact and we can afford to do completely crazy things. On the other hand, in a more traditional sector such as paper, you have to stick to kraft, brown, khaki…
Edith: The way to renew the discourse is an integral part of our business. There is a kind of consumer fatigue that means we have to constantly renew desirability.
CLM: How did you conceive the next steps in Carlin's development?
Edith: We've expanded a lot internationally, in all sectors. At the same time, we've created a subsidiary specializing in creativity and another one in food. We even designed serious games on creativity. Then came 2009 and the effects of the crisis, which was a complicated time for the agency. Communication started to go digital. And, quite honestly, we did not take the digital turn well. At that time, Edouard was not yet ready to join Carlin but I regret it a little, in a way, because I think he would have helped us to go through this stage…
Edouard: Yes, I had done a first internship at Carlin but I really had the feeling of being dropped in and not being legitimate.
CLM: It's true that the position of "son of" is not very comfortable…
Edouard: That's right! At that time, in 2015, I just got out of ESC Reims and started my career at Nestle, thinking it was relevant for me to do something else than fashion. I learnt a lot of things but I didn't really like it. Then I went back to fashion and worked at Lacoste and Zadig & Voltaire to understand the fashion world and the product. Then I work with Carlin in the framework of a punctual mission. I went with Edith to meet our customers because she was missing someone from marketing and product at that time. The mission and the issues were very interesting but, once I got back, when it came to writing the reports and answering the various questions, I didn't fit in very well. I preferred to complement my training by joining another company and gain additional experience. Three years later, Edith called me back…
Edith: For me, it was becoming a rather complicated period. I had changed partners. I needed to be totally confident with someone and especially with a new generation. The management of the office was getting a little old… I promised myself that I would never "impose" this on my son, but in the end, Edouard was interested in the adventure… We realized that we were complementary and we each found our role right away.
Edouard: We are lucky to get along very well, with a real relationship. Our skills and our functioning are different and this allows us not to "step on each other's toes". Edith trusts me on the subjects I know well, while avoiding me to make mistakes thanks to her experience. We have implemented many changes since I arrived four years ago. On our offer, on our communication, on our customers, on our team, on our processes.
CLM: How many of you work at Carlin now?
Edith: There are 25 of us, plus a network of international agents and distributors of about a dozen people. We also have about 50 freelancers working for us year round, depending upon specific sectors. The roles between Edouard and I are well divided.
Edouard: Indeed, my background is more in marketing and clothing production, but I came in with a sales profile because I wanted to do that. When I joined Carlin, I was working for the French Federation of Women's Wear. I had missed the contact with the customer until then and I was also in need of international business. This mission allowed me to have a real legitimacy at Carlin. Then, progressively, I was less and less involved in sales and more and more in the rest, until the organization that Edith and I put in place. We appointed a new sales manager, which allowed me to join the management.
Edith: Now I work much more as a business coach. Plus the fact that we are working in the trend area and if we want to remain credible, we must have a new generation at the head of Carlin, knowing that there is a certain "youthism" effect throughout Europe. In Asia, however, experience is still highly valued. In fact, I keep Asia and major exports as my playgrounds, while Edouard works more on Europe and near abroad.
CLM: During this fabulous adventure, did you ever feel fed up and want to quit? Because everyone wants to be an entrepreneur, without necessarily realizing what it implies on a daily basis…
Edith: It's true that being an entrepreneur in France is a bit of a heroic task! It takes enormous courage. What helped me a lot was that for years I was unconscious (laughs), carried by success. I really think that's what saved me. I lived a life of passion. And I have to admit that even in the hard times, when I see my friends who are the same age as me and who are treated very badly in big companies, I feel very lucky: I have freedom, independence, I can only blame myself, congratulate myself on my successes and I have a fantastic team. And I am incredibly lucky to be able to continue the adventure with Edouard, in complete confidence and serenity. And I still have a vision of the company that is anchored on the love of the company and the team. When I see these start-ups investing millions with the sole aim of selling out the company at a higher price, it is totally foreign to me.
CLM: Yes, because it's not based on any value…
Edith: That's exactly right. My great joy is the people I have helped thrive. Even if, of course, I have had some human disappointments. I have been very lucky! I have traveled all over the world, I have met incredible people. I have no regrets, even if it has been hard on my health… One thing is important: I started this project in the 80's, at a time when a contract was done on a handshake and things were much simpler. I wasn't constrained by calls for tender with ten agencies in front of me and thirty-five page contracts!
CLM: And so, Edouard, working with your mum… Easy or difficult?
Edouard: The main problem was assuming my choices and gaining confidence! The complementary nature of our profiles really made it easy. This is all the more true since in this business we have to travel a lot, especially internationally. It's a real pleasure to be able to combine Edith's experience with my fresh ideas. It's going very well. The only thing that is more complicated is when we go back home and see each other on weekends. You have to know how to stop being a professional and start being personal…
Edith : On the other hand, what I find very pleasant is to be able to talk about personal matters in pro time. The opposite is much more difficult for me. You have to know how to cut out the pro at some point. But we manage to be reasonable!
CLM: And, Edouard, can you imagine a future for Carlin where there is no more Edith?
Edouard: More and more, of course… For the last four years, I've been getting my bearings. I'm responsible for the organization that we designed together, in which Edith still plays an essential role, linked to our customers. But internally, we are gradually learning to live without Edith.
Edith: I'm no longer as involved in the limelight. Now I'm more involved in specific assignments for Carlin.
Edouard: The idea is not to kick Edith out (laughs). Especially since her entrepreneurial profile means that she has a real emotional connection with Carlin employees.
CLM: It's not an easy transition when you've been involved for so many years… It's complicated to "let your baby go ", isn't it?
Edith: Not so much! I'm interested in many other things elsewhere… From now on, I am Carlin's reassurance and the team will understand that my departure is well deserved! In this respect, the confinement and the telecommuting have also allowed me to distance myself and the employees have seen that the agency is still working very well. Now, will my granddaughters take over Carlin one day, the future will tell us!
Edouard: It's a bit early… Right now, the eldest is three years old, we'll leave her alone! (Laughs)
Edith: My grandmother was chief seamstress at Lanvin, from a family of embroiderers. My second son is a designer, so also in creation… Genetically speaking, there would be a logic…
Thanks to Edith and Edouard for this beautiful conversation…
The Bees are happy and proud to accompany Carlin agency on a daily basis and wish long life to this magnificent adventure of entrepreneurs!