24 Jun

The Bees were at the Entrepreneur Show in Lyon…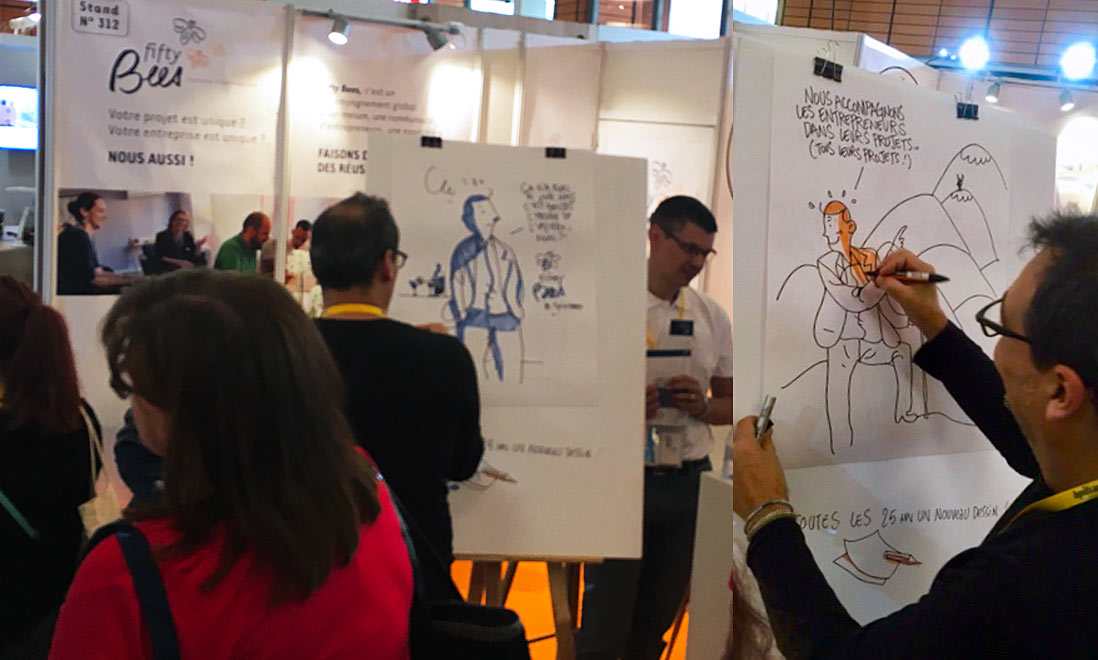 Fifty Bees' bees have been working like mad at the Entrepreneurs Show which took place in Lyon last June 12th and 13th. We there revealed a brand new and white stand, permanently filled up with visitors, our subsidiary Blue Bees had fully conceived and produced!
We must say that there was a lot going on among the bees – talents were all over the place.
On Thursday, Joël Alessandra, illustrator, author of comic strip books and graphic novels (and client of Fifty Bees too, we're lucky !) had exceptionally traded his drawing board for an easel… Under the visitors' amazed and watchful gaze, Joël played impro felt pen, from the opening to the end of the show, drawing in live entrepreneurs' incredible adventures and questions (being an entrepreneur is not an easy job but luckily we're here to support you 😊)…
On Friday, Christophe Bourgois Costantini, coach, lecturer, writer & jazzman, gave a lecture in a packed auditorium, on the theme "create, innovate, reinvent yourself, you're ten times smarter than you think" (we ended up being nicely kicked out of the room, because we had too many questions and no more time left…)
A great adventure we thank you warmly for participating in such large numbers !
Thank you, as well, to all of our Bees who worked like crazy during these two days…
See you on June 17th and 18th, 2020 for the next edition of the show (in the meantime, stay connected, we have loads of things to tell you about…).