02 May

Lyonso Basketball: A committed player in the territory

By Claire Le Meur, CEO of Blue Bees.

The Bees went to meet LYONSO, which Fifty Bees are happy to support daily… We had the pleasure to meet its General Manager, Sami Driss who took the time to answer all of our questions! We deliver you this beautiful interview in exclusivity:

Claire Le Meur: What is LYONSO?

Sami Driss: LYONSO is a TCC (Territorial Community of Clubs) created 5 years ago, which gathers 5 clubs of the south-west of Lyon and more than 1300 members: The SGOSFF, a 100% women's club (St Genis Laval /Sainte Foy/Oullins), the Bale (St Genis Laval), the USMPB (Pierre Bénite), the OSFB (Oullins) and Téo Basket (Tassin la Demi-Lune). These 5 clubs are linked but keep their independence. This allows any child or adult to play at the level which corresponds to him best, without any problem of transfer, because it is always difficult to have all the levels within the same club. We have all levels up to the highest national level. This also allows the mutualization of coaches with the objective of building a common project. We are going to set up a Technical Director who will be dedicated to the 5 clubs, so as to have a common game project and to be able to do training in all the clubs.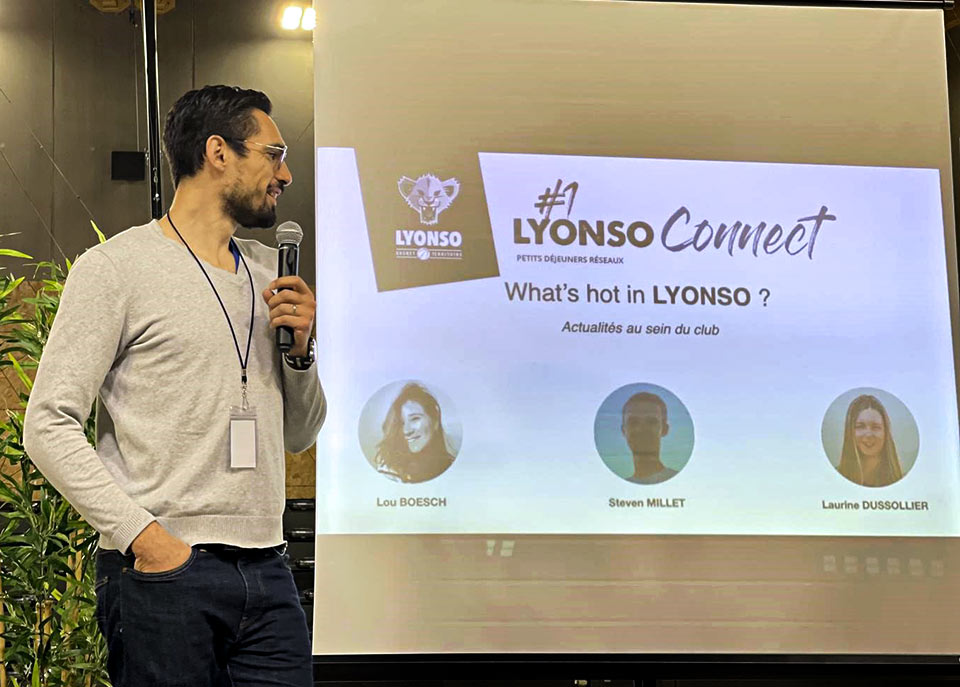 CLM: Does this also include the sharing of equipment?
SD: In terms of equipment, the mutualization is more complicated. It will be done in the long termespecially with the creation of the S.A. LYONSO, the goal of which will be to make basketball radiate on the region and to bring sporting and extra-sporting competence, to all the clubs.
CLM: Do the clubs communicate together or independently?
SD: Each club communicates individually and LYONSO communicates on the professional team as well as on behalf of all the clubs of the TCC. As LYONSO, we are the relay of the clubs. We want to put in place more communication content for each club – and uniform content, even if each club keeps its own logo and website. If the associations are strong, the S.A. will be strong and vice versa. It's a win-win situation. Each club in the TCC has its own culture and personality, and we want each club to grow within this framework and its own culture, with the S.A. in parallel.
CLM: This gives the club a strength that they would not otherwise have…
SD: Yes, but we also help them with administrative and organizational issues. We give time to the associations so that they can devote their energy to organizing events without wasting time on subjects where they are less competent (accounting, formalities, etc.), without damaging the valuable goodwill that has kept the clubs going for many years.
CLM: You mentioned the construction of an S.A. … When is this planned?
SD: We would like S.A. LYONSO to start on July 1st 2021.
The professional team is currently carried by the OSFB. But, as an amateur sports association, we cannot be subsidized as professionals nor have access to sponsorship or are able to pay professional players… This is the reason why we create this legal structure, in order to perpetuate at the same time the associative project. Today we are lucky to have partners who follow us but we never know what tomorrow will bring… It is important to protect the teams (young people in the French championship, team in National 3 for the seniors).
CLM: Who will head the newly created structure?
SD: Hervé Piquet Gauthier will be president of the SA. He will leave his place at the presidency of the OSFB because he does not have the legal right to be on both structures. I will be the General Manager of the SA.
CLM: Precisely, what is your background? How did you get here?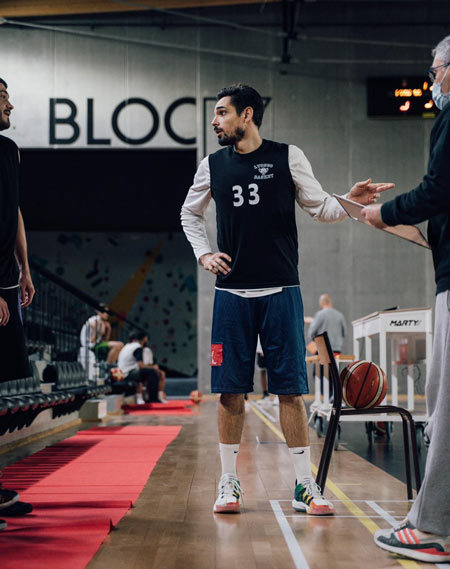 SD: I was a basketball player for 20 years, including at the highest level. I am now 39 years old and have three children…. I was captain of the Elan Béarnais (Pau Orthez), which is one of the biggest French clubs with ASVEL, Limoges, Antibes and Le Mans. At the end of my playing career, I felt the need to be trained. I joined a business school – EDHEC – in e.learning. I wanted to have an experience other than the sports world. I started working in a start-up, DISPLAYCE, which sold digital signage, where I was an account manager. Then I moved to Lyon in 2018 to an ESN (company at the service of digital technology), AGIXIS, where I "sold" computer engineers. I did this job for two years. Then, I went back to basketball for a season and, for the first time in my life, I sprained my knee pretty badly on the first game of the season, followed by another on a subsequent game. I knew that for me, basketball was unfortunately over. At the time, I was working on the side for HAY'S, with similar duties to my previous job. The confinement came very quickly and I worked with Marc Berjoan, the coach, and Hervé Piquet-Gauthier on the construction of the team. At the beginning, the latter proposed me to accompany Marc as an assistant. But I am a player, I like challenges and I have always been a captain… I want to lead. And I believed a lot in Hervé's project, which, because of the confinement, sometimes had the legitimate temptation to stop. What he had managed to put together with his partners – Fifty Bees among others – was really incredible. We exchanged a lot – that was the whole point of confinement because there was no management of the games, the players and the travel. Then he asked me to become General Manager. I didn't like my job at the time and I felt I lacked ambition, even though I was earning a good living. I said Ok to set up the project with him, even if I knew that the remuneration would not be the same. Money has never been my driving force. I need to love what I do! I need to change. My sporting commitments used to last about ten months, everything went very quickly… I was not used to projecting myself far.
CLM: Here, it's different, you are obliged to think "further ahead" but these are strategic thoughts and not imposed ones… You are in the construction of the project.
SD: Yes, that's it! It has nothing to do with simply meeting business objectives. In our project, the professional team must serve the 5 associations, in particular thanks to the fact of having a high level club on the territory. More and more young people will want to play basketball. When I was young, I loved going to schools, transmitting and sharing my passion. In Bordeaux, for instance, I worked with an association called "Un maillot pour la vie (a shirt for life)", to help children in hospitals and give them moral support. Those were very powerful moments. To accompany the handicap, too, which is part of life. In France, we are very bad at accompanying disability. On a playground, a child in a wheelchair cannot do anything! Disability is not considered. This is also part of our mission to raise awareness among children. To talk about nutrition, too. It is crucial! The axis of development that the S.A. will take is to lead actions on the territory, centered around sport and particularly around sport and "healthy sport".
CLM: How do you imagine the articulation between the TCC and the S.A.?
SD: The two will co-exist, with bridges between the two. We also have the LYONSO Sport Territoire label, which allows us, for example, to be accredited on the basis of family income to allow all children to access sports courses – all sports included (basketball, soccer, tree climbing, etc.). Sport is an essential and structuring activity. Our concern lies especially with the 17-25 year olds who have lost their sporting routines with the confinement… The clubs and the Basketball Federation have, I believe, a role to propose to develop diferently the practice of basketball, out of a club and offer new modes of functioning, even if the associative life is rich of many things. It is necessary to set goals to children to give them desire to make sport and to go beyond themselves. This is just as true for adults! Moreover, the first LYONSO Connect that we launched had as a theme "sport in the company" and we invited GSF on this occasion which strongly emphasizes sport in a global company project…
The LYONSO project is really exciting and I am proud to contribute to its development alongside our partners.
The Bees wish long life to LYONSO and are looking forward to see the many projects that the future S.A. LYONSO already holds in its cartons… We will, for sure, keep you informed of the continuation of this beautiful adventure 😉.