03 Dec

Bookinou: The children's story companion

By Clémence Langlois, DRH chez Fifty Bees.
What is Bookinou?
Bookinou is a children's storyteller which enables the children to listen to an audio story recorded by their parents or by a relative while following at the same time on a paper book.
So, it is Grandad, Nan, big brother, big sister or Aunty who live far away who record the child's favourite stories and thereby this one will be able to listen to them at leisure.
Concretely, Bookinou is a lecture box which has the appearance of a nice smiling book. The child takes his Bookinou, scans one of his books on which his parents will have beforehand pasted a sticker which identifies the story and then, the child settles with his paper book and Bookinou to listen to his story told by a familiar voice.
Of course, the relatives will have recorded themselves in advance through the mobile app which is made available by Bookinou.
It is a nice way to give smaller children and most notably children who are not able to read on their own, the fondness of books and stories. Moreover, the child keeps a connection with his family who is sometimes far away (or even confined!).
The bees went to meet Vincent Gunther, co-founder of Bookinou and our client that we have the pleasure to support.
To know a little bit more…
How did the idea of Bookinou come to life?
A few years ago, I was working with Guillaume in a Lyon based start-up which created mobile apps.  We both had the desire to undertake, to create. The idea came from Guillaume and more specifically from his wife who is a speech-language pathologist. We have detected the need to support reading amongst the younger ones by giving them the desire to read while at the same time developing their autonomy.
By the track of our career, we quickly imagined the app which would be able to record stories and make them live amongst the children. But we also and above all wanted to keep the paper book. This is when we imagined the Bookinou, the child's companion which would enable him to make the link between the recorded story and the paper book.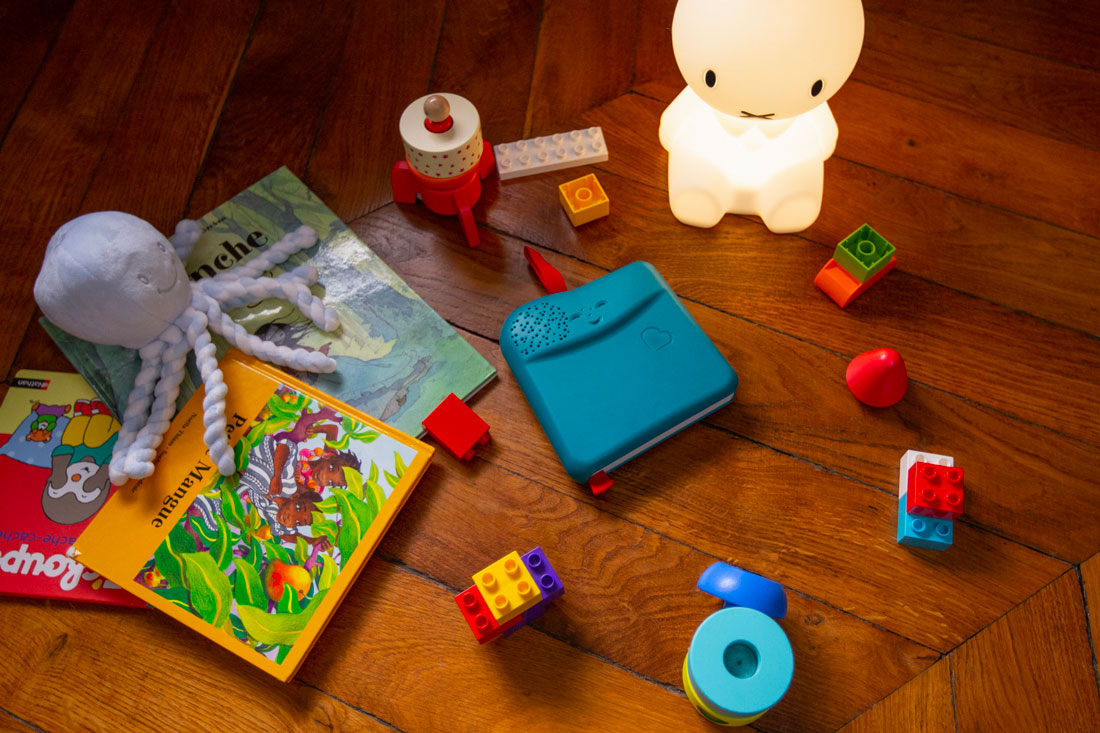 How did you tell yourselves "This is it, let's do this"? And how did you manage?
At the beginning, even though we thought about the project it seems like a lot of work!
As much as we were prepared for the launch of a software project (which demands the development of the app), the software, the object in itself, wasn't at all our thing!
We studied our project very seriously knowing what was being offered on the market, we looked at the consumer's expectations and their consumption habits. We were aware that the firms who develop "hardware products" had very high failure rates.
We started with a wooden prototype. We tested it. We went into libraries, we examined carefully the user's reactions, their feedbacks. Our visit has been very positive.
We launched a crowdfunding campaign. Obviously, the objective was to raise funds but also to see what interest our project was creating. This campaign made a name for itself and we rapidly got in touch with suppliers. We also got support from the "Reseau Entreprendre" (the undertake network). All these elements enabled us to obtain the necessary funding for the expansion of our research and development and the adjustment of our product.
At what stage are you today?
The marketing of Bookinou started in November 2017. Today, our Bookinou is sold by nice brands: FNAC, Vertbaudet, Oxybul, Nature et Découvertes…
We are so proud!
In the upcoming months, numerous challenges await us. Our objective is to work with more suppliers, to accelerate our commercial development, to elaborate our offer in order to diversify our income sources.  
Since the end of the confinement, our Bookinou is also more and more bought by schools and more specifically by nursery classes and first primary school years.
For the moment, it doesn't represent a big market but we are very happy about the significance it has. For us, school is the symbol of learning and supporting reading and if we are able to contribute to this then we have achieved our goal.
What is your motivation? What gives you the energy?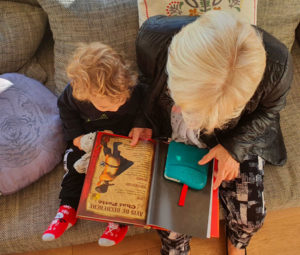 Bookinou is a project that comes from the heart. It is an adventure which relies on convictions, on the will of being close to children, to limit the time they spend on their screens and to strengthen the relation with their family. It is really a project and a product which motivates from the outset by its universal dimension. There is also something emotional.
Moreover, we notice that the people with who we are working are the ones who share our passion for Bookinou. From the beginning, I think that our partners, suppliers, marketers and financers also support us because it is a call from the heart. We have the impression that they are giving even more for us!
We also sustain ourselves through the client's feedbacks and that… that gives us energy!
How does Fifty Bees contribute to your success?
Our adventure with Fifty Bees started when we first met Bérénice, when we created our society. We were especially interested by your offer which is adapted to start-ups and innovation. Fifty Bees is a precious partner for us. We have been remarkably well supported and I am seizing this occasion to thank your team.
Let's be honest, at the beginning a start-up doesn't pay much for a practice like yours. Our firm presents risks, it is not with us that you are going to make your turnover!
I am even sure that at the start we took more of your time than we made money for you…
I really appreciated the fact that nevertheless you were here for us. We work with Bérénice, Mélody and Nicolas daily and they are brilliant, trustworthy and responsive.
During the confinement, your team was always ready to help. You were very reactive, you advised and supported us even though it must have been hectic at this period, well done!
A last word?
Yes, a word for my Bookinou team who support this project daily. We are a team of 10 people motivated by the desire and dynamism. We are a united team around this project of the heart, it is a beautiful adventure.
To know a little bit more about us, check out our Bookinou Website!
The bees wish you pleasant readings with you family 🙂 …