17 Jun

Bertrand Fauvette's wines: an incredible heritage!

By Sylvain Poncet, Case Officer.

Bertrand Fauvette welcomes us to his apartment in the heart of Lyon for the launch of his wine brand "Bertrand Fauvette Héritage".

At 53 years old, after a rich career in which he was successively an air force pilot, having flown the largest number of airlifts in Sarajevo during the war, a pilot for Jacques Chirac, a graduate of HEC, General Manager of GL Events Toulouse, Head of Operations France at Easy Jet and once again an airline pilot, Bertrand Fauvette has gone from the sky to wine…

He gave us the pleasure of telling us about his extraordinary adventure for the release of his first wine, the rosé Bertrand Fauvette Héritage.
BF : I have been passionate about wine for a long time and I have always dreamt of making my own wine. I made two attempts to acquire vineyards. It was very complicated because there are many parties involved: SAFER, chambers of commerce, chambers of agriculture, gendarmerie, customs… You can't just buy a vineyard. You need an authorization to operate. The SAFER was quite positive about neo-winegrowers like me. Our strategy was "We are not people who know, we are people who want to". We invest and take a young winegrower who we install for the management of the viti, vini, wine and so on. Our project was very appreciated by the SAFER because for half of the wine estates, the farmers are over 70 years old and the young winegrowers do not have the means to buy the estate.
After a year of negotiation, we were about to sign the act of purchase at the notary's office and the SAFER told us "In fact, you are not buying vines but a forest and we will regularize it later". I didn't understand because we had visited and seen the vineyards. The SAFER told us that "it was initially woods that the farmer should not have transformed into vines. However we wish that the activity continues, we do not oppose to the sale and we will regularize all that".Under the advice of my lawyer, we cancelled this transaction in order to avoid being liable for tax and/or social security arrears…
Two years later, we made a second attempt to buy a vineyard. And there, it was the gendarmerie who called us to say that the transaction was frozen because they had found the 10 tractors stolen in the region, during the last 10 years, at the vineyard's owner's place!
After these two disappointments, I gave up on my project until I met the Saint-Olive brothers. They have been working in the wine industry for 25 years and have an urban winery in Lyon. They were inspired by an American philosophy where the notion of terroir is not necessarily real, the grape is an agricultural product and if you have a good product, you can make a good wine. The wines are made in small quantities, in small spaces and are therefore called "garage wines". This model was imported to France by Jean-Luc Thunevin in the early 90's who made excellent wines, sold for over 100 euros a bottle.
I was afraid when I started this process because I had no name, no domain, no "chateau" and so the wine had to be good… And for the wine to be good, I need a good oenologist, good barrels, a good cellar master but above all good grapes, the best ones. If I have average grapes, it won't work. The Saint-Olive brothers ask me if I have any names in mind, to which I reply the great names of the Rhone Valley: Gaillard, Cuilleron… They answer me: no problem, we'll go and meet them!
I met with Yves Cuilleron and Jeanne Gaillard who offered to reserve a plot for my wine, assuring me that they would take care of the first part of the vinification (making the must) according to my wishes.  The must is then transported to Lyon in refrigerated trucks and aged in barrels in Lyon. I have a vintage of Syrah, Merlot and Chardonnay.
I wanted them to be the best wines possible, wines that correspond to me. The Rhone Valley is more about the fruit whereas I am more about a wine of breeding, as much about the wood as the fruit, I have an approach a little more Bordeaux. I was accompanied by my oenologist Vincent Hudon who works for Château Miraval. We also had the barrels tailor-made according to the wine I wanted.
I had both colors but I still needed a rosé. And I had no choice, I needed a Côtes de Provence. If I agree that I don't have an AOP for the white and the red, the only rosé that is recognized at the top of the range is the Côtes de Provence. I succeeded in doing this thanks to Sacha Lichine, who developed the top-of-the-range rosé, in particular by controlling the temperature during fermentation in the barrels, which enables preservation of the aromas and the freshness of the fruit. It is this specific vinification that makes this rosé much paler than the others. Sacha Lichine was the first to produce rosé wines at more than a hundred euros and everyone copied him. Côtes de Provence is the rosé that the whole world wants to buy – we have a hard time supplying because it is so popular!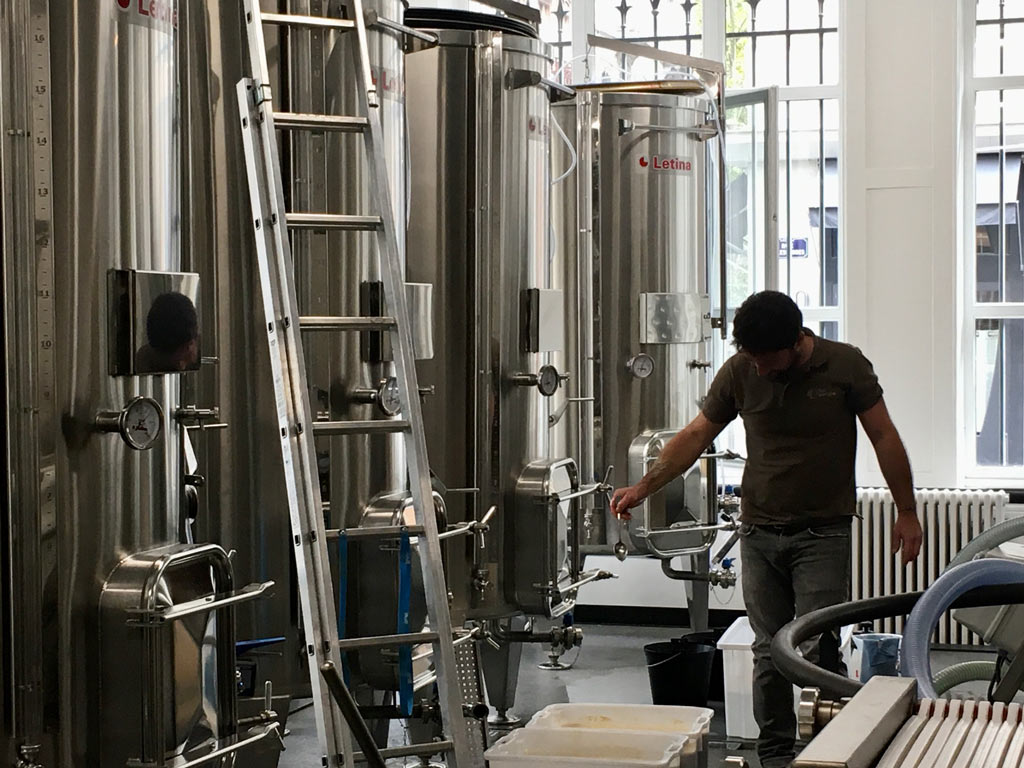 SP: If the vinification process has made Côtes de Provence an exceptional wine, what would prevent, for example, an Anjou from becoming as good as a Côtes de Provence?
BF : The difference is probably the terroir. The Côtes de Provence remains dry and tense even though it is rich, whereas an Anjou will be richer in fruit and therefore more of a table wine. Nevertheless, I think that in 4-5 years, in Anjou, in Bordeaux, they will make wines as good as Côtes de Provence. On the other hand, in the whole world, if you sell outside France, Anjou does not speak from a rosé point of view, it's like saying that in Champagne, they make rosé.
And to come back to the production of the Bertrand Fauvette Héritage rosé, I went to meet Sacha Lichine to see if he could make me a cuvée. He couldn't, but he gave me the address of someone he worked with. And he is the one who makes my rosé, he does the bottling and he delivers them to me on a pallet in Lyon.
SP: What are your marketing channels?
BF: We have launched our online sales site but today, it is mainly me who does the delivery during this start-up phase. Today, sales are mainly made to private individuals via my networks and those of my 2 partners. I also do business with professionals, restaurants and local merchants. Afterwards, I started a little late in the season, the professionals take me 3-4 boxes whereas if I had started in March, they would have taken me a pallet! The vintage wasn't released yet but it's not a big deal; it's encouraging for next year.
I also learnt that wines sell a lot at trade shows. We exhibit and the restaurateurs come to us, rather than us coming to them. It's easier for us.
I also have a project for a fitted out cellar in the heart of Lyon where I would store my wines but with coffee tables, armchairs, lighting… I would rent my cellar to private clubs for tastings and all this in the middle of my bottles.
SP: Why did you name your brand Bertrand Fauvette Héritage?
BF: As I said, I don't have a château or an estate, but I do have a history of which I am very proud.
My name, Fauvette, comes from my great-great-grandmother Pauline who was a slave in the sugar cane industry in Mauritius. In 1835 when slavery was abolished, like all slaves, she had to find a name and as she was small, she was given the name « Fauvette » (little sparrow). Her daughter Eugenie became the planter's seamstress. Her son became a train mechanic in Mauritius and in the end, he managed the whole mechanical team in Mauritius, 300 people – which is quite funny when you know that I was the manager of the Easy Jet pilots, which is about the same job as my great-grandfather. His son, my grandfather, was a doctor and opened a hospital in Reunion.
On my grandmother's side, she came from the old nobility of Provence and had the title of Marquise de Bionneau d'Eyragues in the Alpilles. In 1789, the French started to dismantle the castle and my grandfather fled to Haiti – Saint Domingue at the time. Then there was the revolt of the blacks against the nobility, so he fled again and was picked up by the English ships (at war with France). He was put in prison in Jamaica and after 6 months they were told to leave. Since they couldn't go home, they went to Louisiana. Their children, including my great-great-great-grandmother, decided to return to Eyragues to recover what was left of the castle but it was completely demolished. Her children all had careers as ambassadors, diplomats or soldiers.
It is thanks to them that I had this desire to study, to serve my country and to have this fiber in the business world. It is because they were courageous that I was able to do what I did. Some were slaves and descendants of slaves, others could have ended up on the guillotine and others served France. This is my heritage and I wanted to leave a trace of these people other than by telling their lives to my children.
And it is by making wine that I had this beautiful opportunity to pay tribute to them, by giving each vintage a profile that corresponds to my ancestors.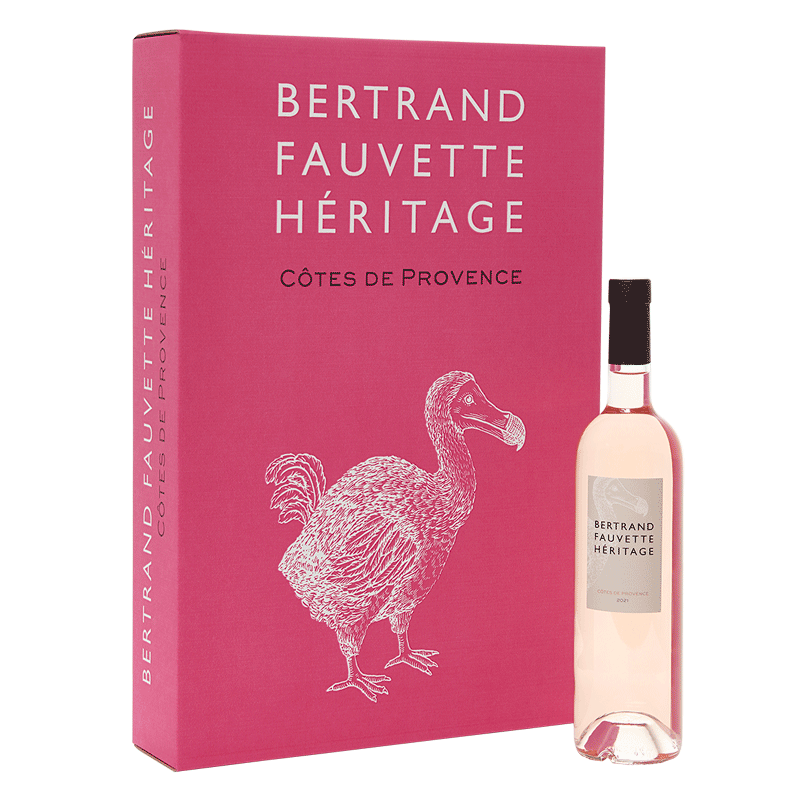 That's why the first rosé cuvée has a "dodo", to remind us of Mauritius where Pauline, the first Fauvette, lived. The cork is also made of sugar cane fiber. The other red and white vintages will also have symbols reminiscent of my ancestors. All the vintages will have a black pewter cap.
SP: And so the next wines will be…
BF: The Chardonnay and Syrah, coming out in September, and the Merlot in December. I'm really looking forward to the Syrah, which is going to be amazing.
The Bees are proud to accompany Bertrand Fauvette in this new and wonderful adventure.