12 Jun

Back to the Running Bees: The Bees make the bug

By Claire Le Meur, CEO of Blue Bees.

It is under the sun that the "Bees" took the departure of the Running Bees, last May 20th – World Bee Day – for a 25 km relay race, with a bee-shaped route, in the heart of Lyon!

Why this surprising course?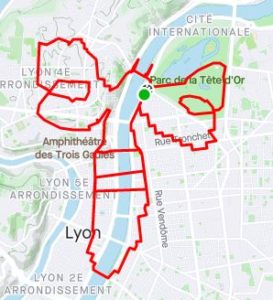 40 of our employees, divided into small groups and equipped with T shirts specially designed for the event, ran the distance of their choice according to their abilities, in compliance with health standards.
In addition to the sporting purpose, the race, guided by Sylvain PONCET (Case officer) who ran the entire distance (!), aimed to raise funds for the fight against cancer.
Delphine MICHARD-GRUNWALD – CEO of our group – is particularly fond of defending just, supportive and responsible causes, and the Bees are very involved in the fight against cancer or in other areas such as supporting young people – through the Ouvre-Boîte des Apprentis d'Auteuil, for instance.
So we imagined this race, with the aim of donating the funds collected at the end of the race (the goal was set – and reached! – at €3000) to Léon Bérard Center. The idea was also to propose a day of sharing within the group and to decline once again the logo of the bees that we have been displaying for three years now.
Léon Bérard Cancer Center in Lyon and Rhône-Alpes region has a triple mission of care, research and teaching. Its vocation is to offer quality care and access to advances in research to people suffering from cancer. By bringing together doctors, researchers and patients on the same site, Léon Bérard Center's ambition is to shorten the time between discoveries made in research laboratories and their application to patients.
The Bees have all gone back to the hive, tired but happy to have participated in this beautiful project for a noble cause. Detail – not the least: at our arrival, Jean MICHARD (Founder of the group), Tiffany FERRO (Head of Production) and Julie Levaillant(Accountant) had concocted a nice buffet (and a delicious cocktail …) for the Bees to regain their strength. What a great motivation to try again next year… with a new course!
FIFTY BEES would like to take this opportunity to thank Tribune de Lyon for its support in this event 😉.